Connecting in Conflict: Oslo, Norway
4. november 2023

-

5. november 2023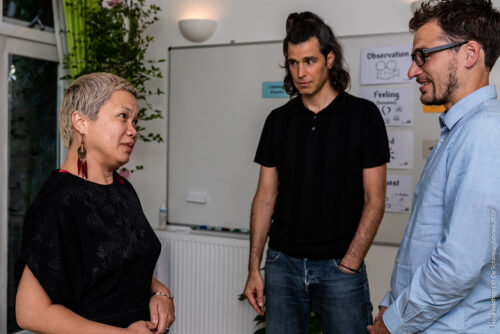 With CNVC certified trainer and mediator Yoram Mosenzon 
Do you like conflict?
In school we may have gained book knowledge, but we learned very few skills in how to deal with people. This weekend will be dedicated to learning the Art of Dialogue – building skills in conflict resolution, communication and deepening human relationships.
I've traveled in many countries and met thousands of people. One thing that unites us is that we all, every one of us, have conflicts. Some people keep their conflicts well hidden, others express them loudly, but every person I've met experiences challenges with others.
We all deal with irritations, disappointments, hurts, fears, struggles and communication challenges – with our families, children, partner, friends, neighbors and colleagues.
We will explore
❀ How to connect in conflict and transform conflicts into a deeper trust
❀ How to deal with misunderstandings and differences in opinion between people
❀ The power of Empathy and how it transforms situations and relationships
❀ How to be fully honest but not judgmental
❀ How to deal with inner conflicts (fights between different parts of ourselves)
❀ How to ask (and stand) for what you want
❀ And more…
About NVC
Nonviolent Communication (NVC) (PhD Marshall Rosenberg) is a practical communication tool that radically transforms your relationship with yourself and others. NVC cultivates assertive honesty mixed with a deep quality of Empathy.
NVC transforms conflicts into love and clarity.
NVC takes you from your meditation cushion into real life – it helps you live your deep values in relationships and millions of day-to-day life situations.
 NVC deeply transforms your communication with yourself toward a quality of profound compassion.
For mer info og registrering, se arrangørens hjemmeside